Missing Devon Granite Way cycle link 'hits tourism'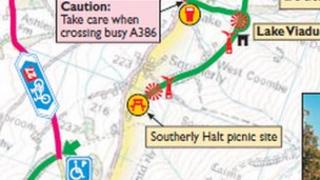 A Devon hotelier has said that a missing link in a cycle trail is costing the area lost tourism.
Steve Jendon, of the Lydford Country House Hotel, has been waiting eight years for a one-mile (1.6km) stretch of the Granite Way to be completed.
He said that without the link on the mainly off-road trail, cyclists faced a two-mile (3.5km) detour along a road.
Devon County Council, which built the 11 mile (18km) cycle track, said negotiations "can take time".
The trail, which is detailed in an online document, runs along the north west edge of Dartmoor between Lydford and Okehampton.
But at Bridestowe it stops and riders have to follow a stretch of road before rejoining the off-road trail.
Mr Jendon said: "We bought the hotel knowing that there was a missing link at Bridestowe.
"We were told that it would be open within a year. We immediately opened cycle hire and waited for the missing link to be filled in."
He said the missing cycle track was affecting tourism.
"If it had been completed, things would not be as bleak in Lydford as they are at present," he said.
"It is no longer a pleasure if you're cycling with a young family and expecting a car to come round the corner."
The council said in a statement that it was "making the best use of resources by concentrating on sections that are agreed as a priority".
It said: "We have seen significant improvements in recent years on the Ruby Way, Tarka Trail, Granite Way, Wray Valley Trail and Exe Estuary Trail among others.
"We will address gaps in routes, but negotiations can be complex and take time."