Exeter University Students warned of cross-dressing offence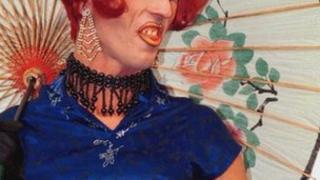 Exeter students have been warned in an article that cross-dressing for fun could be as offensive as "blacking up".
The Exeter University Guild said of cross-dressing, "to parody this appearance is crass and offensive".
The university said it was not banning cross-dressing but wanted its students to consider how appropriate it was.
Kelly Giles, 44, from Plymouth who is transgender, said: "I have seen guys in fancy dress and in drag, and never found it offensive."
The article entitled A Response to Banter - The Appearance of Prejudice spoke about cross-dressing for fun during rag week or during nights out and blacking up - white people wearing makeup to present themselves as black.
The piece was part of the university's Diversity Week.
It said: "Representations of gender are often stereotypical, mocking and offensive to some students.
'A little ridiculous'
"To parody this appearance is crass and offensive on the same level as ethnicity; it implies a judgement of a gender or gender appearance as inferior and can be intensely psychologically damaging to anyone of student age."
Nick Davis, president of the guild, said: "The article did make comparisons to blacking up, but in no way are we trying to say that everyone would consider it to be that offensive.
"We were just asking our students to think carefully about the way in which they did dress up, a lot of which is done in very good nature, but obviously some people, not necessarily our students, could do so with some malice behind it."
Mr Davis said the article was not written in response to complaints but was "purely something that came off our own backs".
Mr Giles added: "Everything does get taken too far. People have been cross-dressing for fun, you're never going to stop that.
"Where do you draw the line, sometimes it becomes a little ridiculous."