Alphington residents fear homes plan 'will swallow village'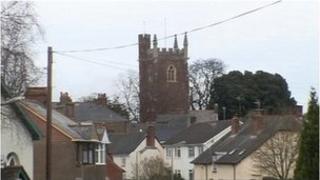 Residents in Devon fear their village would be "destroyed" by the spread of homes nearby.
Teignbridge District Council is proposing 2,000 homes under a 20-year plan for the district around Alphington.
The council said homes would have all the support infrastructure required.
Local councillor Vanessa Newcombe is urging local people to set up a neighbourhood forum to try and mitigate the effects.
She said: "Residents are extremely worried that the identity of Alphington Village will be swallowed up.
"There are also huge concerns about the infrastructure, the roads which are already at capacity and the surgery and school which are already full.
"Alphington has a nice village feel and development on that scale would destroy that."
Phil Shears, deputy chief executive of Teignbridge District Council, said he wanted to "reassure" people the development would not just consist of homes.
"For example, our plans near Alphington include two primary schools, a secondary school, over 90 football pitches worth of green space, sports facilities, a library, a medical centre, shops, a youth centre and all-important improvements to local roads, along with a new park and ride facility," he said.
"Also in the plan is a network of safe and convenient green travel routes, for example footpaths and cycle ways."
He said there would be more public consultation once detailed plans were submitted.
"In the Alphington area we wouldn't anticipate this until around the end of this decade, with development most likely to take place next decade," he added.