Depth charges sent to wrong site in Plymouth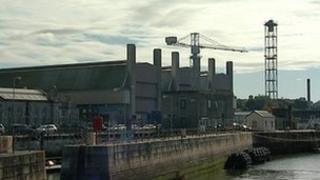 A Ministry of Defence report has criticised procedures after explosives were allowed into a high security nuclear dockyard in Plymouth.
The lorry load of unarmed depth charges should have been delivered to the nearby Defence Storage and Distribution Agency site at Ernesettle in May 2010.
An investigation blamed the "failure" of the "logistic management system".
The Ministry of Defence said it took safety extremely seriously and changes had been made.
The report said the lorry was cleared by security and drove into the Devonport naval base and pulled up alongside the frigate HMS Somerset to which the cargo was addressed.
The mistake was spotted by an officer on board the warship and an investgation was launched.
An investigation concluded that "naval base mechanisms to identify unacceptable or unauthorised deliveries failed".
It said measures to manage contractors were "weak" and criticised checks carried out on visitors to the site.
The Ministry of Defence said it recognised that the correct procedure was not followed and said changes had been implemented since the incident.