Phantom of the Opera preview cancelled in Plymouth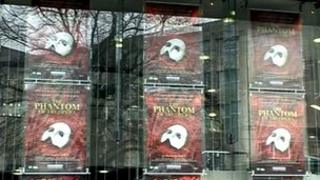 A preview performance of the musical Phantom of the Opera has been cancelled in Plymouth ahead of its UK tour.
Theatre company Cameron Mackintosh Limited said "the size and complexity of the production" necessitated more rehearsal time.
The preview show, scheduled for Monday at the Theatre Royal, was called off to allow scenery to be safely installed.
Producers said ticket holders would be given a full refund and the opportunity to attend a dress rehearsal.
A theatre spokeswoman said it was in the process of contacting customers who had booked tickets for the performance.
A spokesperson from Cameron Mackintosh said: "Several large scenic elements can only be incorporated into the show for the first time on Monday morning."
The production of Andrew Lloyd Webber's musical will open at the Theatre Royal in March 2012.