UN 'could get Paul Conroy out', wife Kate says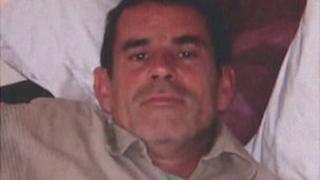 The wife of a British photographer injured in Syria during an attack in Homs has said the United Nations (UN) could get him out.
Mr Conroy, 47, was hurt in an attack on a media centre that left two reporters and a French photographer dead.
His wife, Kate, from Totnes, Devon, said the use of the UN might be "another angle".
The UK Government said it was doing "everything it possibly can" to get Mr Conroy home.
Mr Conroy was working for the Sunday Times and was with correspondent Marie Colvin when she was killed in the attack on Wednesday.
'Forget protocol'
The Devon-based freelance photographer and father-of-three was hit by shrapnel in the leg and stomach.
Mrs Conroy said she thought that UK government representatives were "doing almost as much as they possibly can".
However, she had suggested the government should "forget protocol".
"The other angle for me is to bring the UN into the mix," she said.
"If we can possibly get the UN involved, and perhaps have a UN vehicle going in to get them out, perhaps that's another option."
Mr Conroy's 11-year-old son, Otto, said that if anyone could get through Mr Conroy's ordeal, "it's definitely my dad".
"He's just been to so many war zones, I know he can make this one," he said.
Prayers were said for Mr Conroy over the weekend, at churches in Totnes.
City 'under siege'
And, Grammy Award-winning singer Joss Stone, who was born in Devon and met Mr Conroy 10 years ago while filming a documentary, has joined campaigners aiming to secure his return.
His MP, Totnes Conservative, Dr Sarah Wollaston, said he had "not been forgotten".
"The priority has to be to get him out in the safest way possible," she said.
The Foreign Office told the BBC that Homs was under siege, which was making rescue operations very difficult.
But the British ambassador is said to be lobbying the Syrian foreign ministry, while talks are also taking place with the Red Crescent.