Browne's Chocolates in Okehampton lays off six staff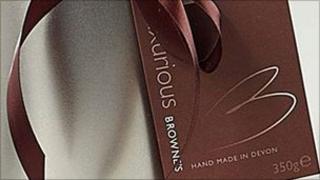 A Devon chocolate firm that went into administration and was later saved has laid off six of its 10 staff.
The current owners of Browne's Chocolates in Okehampton bought the company in 2011, re-employing 10 people from its former workforce of about 25.
Managers said that the latest cuts had gone ahead despite recent rebranding work because of a "very slow and competitive marketplace".
The firm, which supplied Harrods, has been in the town since 1993.