Devon village of Silverton granted dispersal order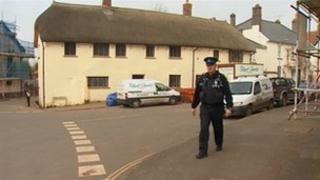 A village in Devon with a population of 1,500 has been made the subject of a dispersal order after incidents of anti-social behaviour.
About half the area of Silverton comes under the order, which was granted by Mid Devon District Council.
The six-month order allows police to move on groups causing trouble.
The council said it was granted "in view of a few recent incidents of anti-social behaviour" and it was confident it would any solve problems.
Residents in the village, which is north of Exeter, said incidents they had experienced included people being verbally abused and vandalism of property.
'Just young people'
Resident Clare Langsford said she often felt intimidated by groups congregating outside her house.
She said: "Youths seem to have taken over because they have nothing better to do."
Dispersal orders apply to groups of two or more people.
They can be ordered to leave a location and not return for 24 hours. Under-16s can be taken home by police.
As well as the order, there are also extra police patrols being carried out in the village.
In a letter to residents, Devon and Cornwall Police said: "We are aware of your issues and we are dealing with them robustly."
But Tim Todd - chief executive of Young Devon, a charity that challenges negative stereotypes of young people - said people had to be careful not to instantly believe all youngsters were troublemakers.
He said: "The vast majority of young people are exactly that - they're just young people who want to meet with their friends."
The council said a previous order was issued in a different part of the district and had "proved highly effective in dealing with the problem".
"We are confident that this will have the desired result for the benefit of all residents of Silverton," it said.