Dartmoor tungsten mine link road: Construction begins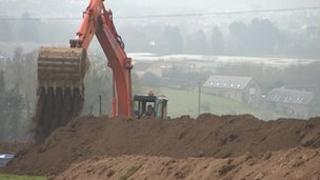 Work has started on a road leading to a Devon mine which is set to reopen.
The 600m (656yd) link road paves the way for mining operations at Hemerdon, near Newnham which will concentrate on tungsten mining.
Wolf Minerals said it had chosen Bardon Contracting to build the road between Lee Moor Road and West Park Hill in Plympton.
The revival of the mine was announced five years ago. The Australian company hopes to start mining in 2014, it said.
Jeff Harrison, from the company, said: "This is the first metal mine in the UK for many, many years and it will be producing 4% of the world's tungsten, so it's a significant operation.
"It will create a lot of jobs and it will bring a lot of wealth into the local area."
The company said up to 300 jobs could be created once mining begins.
But some residents are unhappy with the disruption and noise it will bring.
Rodd Harrison said: "We moved here on the peripherals of Plympton purely because of it virtually being out in the country and very quiet, but you can hear noise in the background as they've commenced work."
Gary Streeter, Conservative MP for Devon South West, who also lives close by, said: "I feel sorry for lots of local people with lots of disruption, but we do need these jobs."
Tungsten is used in metal-working, construction and in the manufacture of electrical equipment and light bulbs.
The mine was first discovered in 1867 and mineral-working was carried out between 1919 and 1920, and again between 1934 and 1944, before the mine was closed.