Plymouth robbers steal £10,000 cash machine money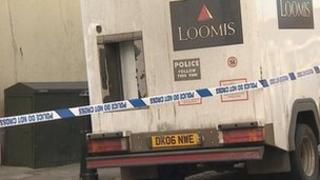 A security van crew delivering money to a cash machine has been robbed of about £10,000 in Plymouth.
The robbery happened near the post office in the Stoke Village area at 10:21 GMT, police said.
A security box was taken as the money was being delivered by security guards from Loomis. One of the two guards received minor injuries.
Police are searching for three men and have found a silver Ford Fiesta thought to be the getaway vehicle.
One of the men is described as black, 5ft 10in tall and stockily built.
He was wearing a white beany hat, black jeans and a blue top.