Teignbridge campaign groups join forces over homes plan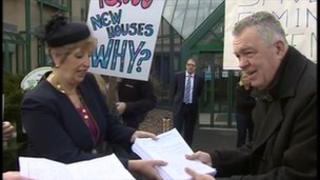 Fifteen campaign groups have joined forces to protest against the number of houses proposed for part of Devon.
Teignbridge District Council (TDC) estimates 14,800 new properties need to be built over 20 years to cope with the growth in population.
But protesters, who signed a petition, said figures had been over-estimated and would create a "concrete jungle".
The petition was handed to the council as part of a public consultation, which ended earlier.
The council said the 20-year plan would as act a blueprint for any future development in the area, but would not guarantee all planning applications were granted.
Tourism 'important'
Martin Heath, of Save Our Undeveloped Land, said: "I think it will make it into one of those very over-crowded seaside areas that a lot of tourists won't actually recognise."
In January, TDC said it was reviewing the figures for a third time, to ensure there was a need for 14,800 properties, after campaigners claimed only 10,000 were needed. The results are due shortly.
Councillor Rosalind Prowse said: "I don't think this shows that the council have got it wrong at all, it shows that the council have raised issues that people wish to contest.
"Not everybody is against everything, this is a plan for the next 20 years it's about our children and grandchildren, it's about the way the area should grow or not grow."
Peter Large, a campaigner from Dawlish, said: "Tourism is one of the most important industries and what we don't want to see is Dawlish become just another satellite for Exeter."
A TDC spokesman said the results of the public consultation would be considered and the plan revised before a further consultation ahead of the plan being submitted to the government.