Leigham fire destroys farm hay barn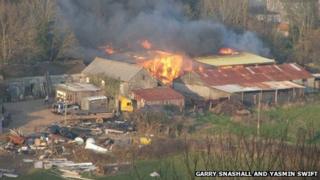 A fire has destroyed a barn at a farm in Devon.
Devon and Somerset Fire and Rescue Service said more than 30 firefighters were sent to the blaze on Forder Valley Road in Leigham.
The fire service said the building, which contained hay, straw and fertiliser was "well alight".
No people or animals are thought to have been hurt in the fire which is ongoing.