Police 'let down attacked Devon farm'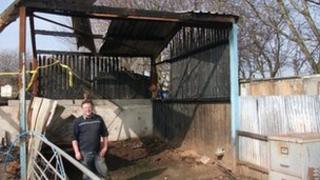 A Devon family who say they have endured three years of attacks, including five arson incidents, say they feel let down by police.
The Johnsons said thousands of ducks and chicks, and a number of pigs, had been killed in fires over two years on their farm at Newton Abbot.
A caravan, rest rooms and a number of stables were also destroyed, they said.
Devon and Cornwall Police said they took all reported crimes seriously and deployed appropriate resources to each.
'Absolutely numb'
Ian Johnson said that despite putting up CCTV and taking other precautions, incidents were still occurring.
After one fire, Mr Johnson said he had to shoot about 10 pigs which were injured.
He said: "I used to be very much for the police, now I am absolutely numb in the way they handle everything.
"You don't get any support. You just get patted on the head, and they say 'here's crime number, give it to your insurance company'.
"There's no policing there."
Police said they were working closely with the Johnsons as part of an ongoing investigation.
They added that they appreciated Mr Johnson's position and that a number of lines of inquiry were being followed.