Derriford Hospital £17k revamp of children's play area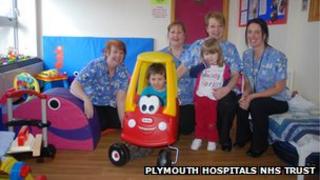 An activity centre for sick children at the South West's biggest hospital has been given a makeover after receiving money from fund-raisers.
The aim of the centre at Derriford Hospital in Plymouth is to entertain young patients and take their minds off what is happening around them.
More than £17,000 was raised by the Children's Happy Hospital Fund.
It has paid for play equipment, toys, furniture, flooring and decoration at the Woodcock Ward centre.
Money was raised by organising a range of events and a team of staff, parents and carers took part in the Plymouth half marathon.
The activity centre is also open to siblings of young patients to enable parents or carers to be able to focus on the sick child.
Brydie Willis, one of the runners and the mother of a four-year-old boy, said the centre helped many people.
"The staff in the activity centre are absolutely fantastic and cannot do enough for the children they look after, play with and to whom they help to provide reassurance," she said.
"Not only do they look after the children but they are also very good at looking after the parents and can easily recognise when a parent might need to take a quick five minutes break.
"Taking your child away from familiar surroundings and putting them into a clinical environment is one of the most daunting things a parent can go through.
"They're too young to understand and all you can do as a parent is to provide cuddles and reassuring words that it's all going to be okay - but inside you are wishing you could swap places with them so you can go through it all instead."
Sue Rodgers, the hospital's play specialist team leader, said the centre was now a "bright, airy and friendly space" that children and their families could enjoy.