Otterton Hill trees felled to tackle 'killer plant pathogen'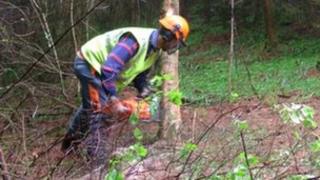 Hundreds of trees are being cut down on a Devon estate to prevent the spread of a killer plant pathogen with no cure, site managers have said.
About 25 acres (10 hectares) of mature Japanese larch trees are being harvested on Otterton Hill to stop them contracting Phytophthora ramorum.
Landowner Clinton Devon Estates, said the move would help rescue a 50-year-old crop of timber.
The crop will be felled over months instead of 10 years, bosses say.
'Race against time'
Clinton Estates said it received a licence from the Forestry Commission to carry out the entire felling programme at the site, near Bicton, over spring 2012.
It said the felling would be "a race against time" to ensure the trees were cut down before they became prone to infection from the fungus-like pathogen.
A long-term timber crop usually needed an average growing time of 60 years before it was ready to be harvested, estate managers said.
Last year, the Highways Agency announced that about 2,100 trees needed to be felled along the A38, between Exeter and Plymouth, in a bid to slow the spread of the disease there.
Work has been carried out at 29 sites, including Haldon Hill and Marley Head.
The Forestry Commission said the disease caused extensive damage and mortality to trees and other plants.