Plymouth City Council backs Sherford Valley new town plans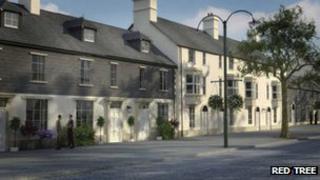 Proposals for a new town on the edge of Plymouth have been given the go-ahead by the city's planners.
Developer Red Tree's plans for Sherford, in Sherford Valley, on the east side of Plymouth, include more than 5,000 homes.
Agreements over affordable housing, roads and recreational facilities have yet to be finalised.
Plans for Sherford were first launched more than 15 years ago and outline planning was granted in 2008.
Plans for the town include three primary schools, a secondary school and a health centre as well as land for retail and business and a park.
James Koe from Red Tree said: "I'm extremely happy that after a very very long process we have been able to get the permission, so we can start thinking about how we are going to deliver it.
"We expect to get a digger on site by the end of the year."
He said the design of the houses "should make this a very attractive place".
Opponents say there is no reason to build on green fields and there is no case for this many homes.
But Plymouth City Councillor John Lock said: "We need the Sherford development to expand Plymouth with more homes and more jobs.
"We need to get the population of Plymouth up to about the 300,000 because that is when, we are told, the big investors will come to Plymouth.
"Although we do have brown field sites in Plymouth there are not nearly enough, so we have to go for the green field sites."