Burmese stud cat's wailing upsets Manaton neighbours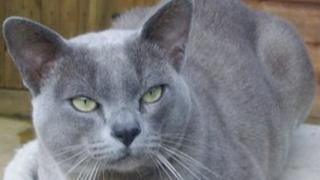 A champion Burmese stud cat is being rehomed because his wailing to attract female cats has upset the neighbours.
Rio - short for Lothario - has been with the Beale family in Manaton, Devon, since he was a kitten, but when he reached maturity his wailing began.
Noise level checks found the howls were above acceptable levels, but did not constitute a statutory nuisance.
Owner John Beale said: "He's going to Yorkshire on loan, so the neighbours can get some peace and quiet."
But Mr Beale, 51, said he and his wife had been very stressed over the situation and now planned to sell their home, hoping to be re-united with Rio when they move.
'Natural behaviour'
Eighteen-month-old Rio's wailing was ruled lawful as he only makes the noise in short bursts.
"It's completely natural behaviour, but I admit he's noisy," Mr Beale said.
"We thought it would settle down, but we don't want to be a nuisance to our neighbours so he has to go."
As a kitten Rio was a family pet and lived indoors, but as a stud he now has a house and covered run in the garden.
Two complaints were made to Environmental Health, although the Beales do not know who made one of them.
"It's a shame whoever it was didn't feel they could come and talk to us about it so we could try to sort things out."
Mr Beale said although he and his wife had lived in Manaton for 10 years and were still on good terms with other villagers, some trust had been lost so it was "better to move on".