Devon roadworks warning map to be improved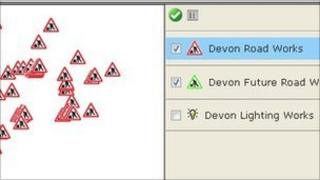 An interactive map showing roadworks in Devon is being revised after complaints that it is "very difficult to use".
The map,which appears on the council's website, allows users to click on icons to reveal information.
Jill Jones, of Challacombe in north Devon, said she had complained about the site's shortcomings in October 2011 and it had not improved.
The council said on Monday it was "completely upgrading the map to make it easier to use".
'No duffer'
Mrs Jones said: "When I first used the interactive map someone in the customer services section of the roads department very kindly talked me through using it. It took something like 20 minutes.
"I'm not a whiz with computers, but I'm not a complete duffer either.
"And she said it is very difficult to use."
Mrs Jones was also told other people in the department could not use the map.
She said: "I feel quite worried. If this is how the road traffic closure information is disseminated and it is not a good system what are the other systems like, the much more important ones when it comes to people's lives?"
A Devon County Council spokesman said: "The county council is aware of the issues with the existing interactive roadworks map.
"We are in the process of completely upgrading the map to make it easier for people to use and hope to have this new map available to the public within the next couple of months.
"We always welcome comments from members of the public about how we might improve the services we offer."
A spokesman for road users' organisation the AA said: "The council is introducing transparency into roadworks, but it is not the most user friendly website.
"However, it's probably better than nothing."