Drink-drive Devon County councillor Christine Channon banned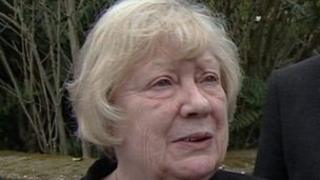 A former Conservative leader of Devon County Council has been banned from driving after admitting to a second drinking and driving offence.
Christine Channon, 69, was breathalysed in Budleigh Salterton, where she lives, after a minor crash in February.
The councillor was banned for 14 months by Exeter magistrates and must take a driving rehabilitation course.
"I'm very sorry and I bitterly regret letting down the community I serve," she told BBC News outside the court.
Prosecutor David Barnes told magistrates Channon told a Devon and Cornwall Police officer who had been called to the accident that she would be over the limit, claiming 'I've drunk two cans of Special Brew'.
Channon, who defended herself in court, disputed this and said she had drunk one Special Brew and a small glass of wine before "popping out" for groceries.
At the police station, Channon gave a breathalyser reading of 61 microgrammes of alcohol - the legal limit is 35.
'Tremendous support'
Magistrates, who were told the councillor had a previous drink driving conviction from 1998, banned her from driving for 18 months, which they reduced by 18 weeks after Channon agreed to the rehabilitation course.
She was also fined £350, plus £100 in costs.
Channon, who resigned from her position in the council's cabinet as portfolio holder for schools and learning earlier this month, said she would not be standing down as a councillor.
"I've had tremendous support from the community. They want me to carry on helping them as I've done for the last 19 years," she said.
John Hart, leader of the Conservative-run council, said he had accepted Christine Channon's resignation from the cabinet "with great regret".
"She has served the county of Devon with great distinction for many years and most recently has devoted her energies to improving the lives of young people, both in and out of school," a statement said.