Mid Devon Council keeping fortnightly bin collections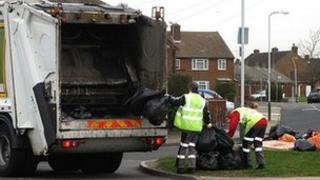 Councillors in Mid Devon have decided to keep fortnightly bin collections.
Members of the Conservative-run authority debated whether to take government money to return to weekly pick-ups after stopping them in 2006.
The authority said it had decided against it, partly because the £250m of nationwide funding would only last three years.
Last year, Communities Secretary Eric Pickles called weekly bin collections a "basic right".
Mr Pickles scrapped guidance telling councils to introduce fortnightly collections in a bid to reverse a trend developed under the Labour government.
He said that rubbish collections were the "most visible service" paid for through council tax.
The council said it rejected the government funding because, as well as only lasting three years, it would be expected to commit to a weekly service for five years if it took the money.
A report to councillors added that the authority would have to buy in extra bin lorries, and that recycling rates might suffer.