Ilfracombe family return from Swaziland after five years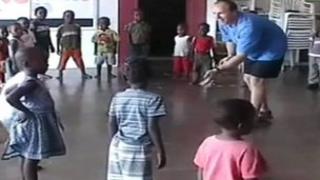 A Devon family who moved to Swaziland for 12 months in 2006 have returned five years later having helped establish an orphan care programme and adopt a teenager.
Jon Skinner, a former teacher, and his wife Jude, a nurse, moved to Swaziland in 2006 with three of their six children.
The family went out to help renovate two schools but over time they made more permanent changes to the town of Bulembu.
Having worked as a primary school teacher at Ilfracombe Junior School, Mr Skinner went on to found an education programme and become Principal of Bulembu Christian Academy.
They also established an orphan care programme, linked to the school, which currently looks after 350 children.
But Mr Skinner said the family's time in Swaziland came with "many ups and downs".
"On Christmas day 2008 I picked up an 11-year-old girl who had passed away from a hospital in Siteki, bought the coffin, laid her in it, brought her back to Bulembu, dug the grave and then led the committal service - totally bizarre and very sad.
"Then there was the day my wife and I bought the coffins for two seven-year-old boys, paid the mortuary fees for the release of the bodies, laid the bodies in the coffins and helped to bury them.
"I never thought that as a teacher and Coastguard from Ilfracombe I'd in my wildest dreams, have to do something like that."
The family were affected by their move in more ways than just experience, and in 2009 officially adopted a 16-year-old girl, Phila, who moved back to the UK with them and is now studying for GCSE's at Ilfracombe Arts College.
Phila said: "It definitely did make a difference in my life in that I got the care and all the things I needed and the education."
Having returned to Devon Mr Skinner is now focused on raising £750,000 every year to pay for the running costs of the orphanage.
He said: "It's a big task but what do you do when you have to eat an elephant? You eat it one bite at a time, so it's one bit at a time that we'll do."
One way Mr Skinner is raising the money is by getting each year group at his former school to sponsor a child and keep in touch with them over Skype.
Mr Skinner said: "We will try and involve Ilfracombe College, so that eventually a year 3 child grows up with a child in Swaziland throughout their schooling life."
Bradlee Hodgson, 10, from Ilfracombe Junior School, said: "I think it means a lot because words aren't really good enough so our school likes to give a little bit more than just words."
Mr Skinner said the difficult times in Swaziland were far outweighed by the positives.
"We had the joy of seeing lost, abused and orphaned children coming into our homes and the school and totally changing and seeing the smiles on their faces was always worth the toil and heartache.
"Nothing in the world can compare with seeing a life saved and totally changed."