Milestone for Lympstone Royal Marine rehabilitation centre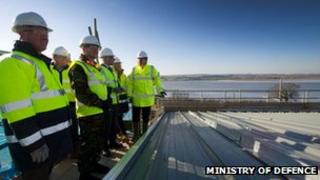 A new rehabilitation centre for injured Royal Marine recruits in Devon has reached a construction landmark.
A "topping out" ceremony was held at the Parker Hall facility at the Commando Training Centre in Lympstone to mark the building reaching its highest point.
Parker Hall will be equipped to help rehabilitate injured recruits and return them to training.
It will be able to treat up to 50 recruits at any one time.
The centre is expected to be complete and operational by the summer.
Construction is being undertaken by Defence Infrastructure Organisation, which manages the Ministry of Defence property, and Debut Services.