Michael Sutton left cannabis growing manual in car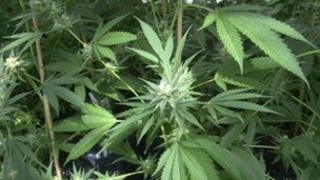 A cannabis producer who had a growing manual in his car and "souvenir" plant pictures on his laptop has been jailed.
Exeter Crown Court was told Michael Sutton made a series of basic mistakes after setting up cannabis farms in Kennford and Teignmouth.
A document with his details was found among foliage and growing equipment a friend had dumped for him.
Sutton, of Cowick Lane, Exeter, admitted two counts of producing cannabis and was jailed for two years.
The court was told Sutton's fingerprints were found on his cannabis growing manual along with calculations working out the exact cost of setting up his drugs operation.
At the largest of Sutton's cannabis "farms" at The Paddocks in Kennford, near Exeter, Devon and Cornwall Police found 243 plants with a street value of nearly £40,000.
'Commercial operation'
Officers then raided a second house in Moorview Drive, Teignmouth, where a smaller hydroponic nursery was found with six more plants.
Mr Brian Fitzherbert, prosecuting, said police experts estimated the entire operation between 2008 and 2010 could have produced a maximum annual yield of £190,000.
But Mr Martin Lanchester, defending Sutton, said the actual income would have much lower because half the plants would have been male and therefore of no value.
He said his client had run a business until the economic downturn of 2008 but ran into debt and went into the cannabis business so he could repay it.
"He is not a big player, he is not at the top of the pyramid... his only reward was going to be to reduce his debts," Mr Lanchester told the court.
Sentencing Sutton, Judge Phillip Wassall told him he had played a "significant" role in an operation that was capable of producing significant quantities of cannabis.
"You were going to hand on the yield to others and you knew full well it was going to be sold, so it was part of a commercial operation," he said.
Two other people involved in the drug operation were also sentenced.
Christina Hutchings, 32, and 42-year-old Ricky Leppard, both of Beacon Heath, Exeter, admitted producing cannabis at High Street, Silverton, in 2010 and possession of diazepam.
Leppard was jailed for six months, suspended for two years and ordered to do 240 hours community work.
Hutchings was given a three-month curfew and ordered to do 100 hours community work.