Scott centenary expedition: Henry Evans' busy life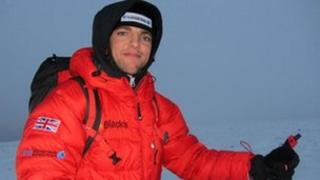 A Plymouth University student taking part in an expedition to the South Pole later this year has been speaking about his training regime, cramming for exams and how a meeting with Princess Anne is making him "kind of nervous".
Henry Evans, a marine biology student, was selected last November for the International Scott Centenary Expedition (ISCE) which will trek to the last resting place of Capt Robert Falcon Scott.
The expedition will take the same route as the rescue party that went out in search of Plymouth-born Scott and his companions.
The team made it to the pole in January 1912 - but found a Norwegian flag which had been planted the previous month by a rival team led by Roald Amundsen.
On their return journey, the British team ran out of food and all five men perished in a blizzard.
In November, Henry and his fellow ISCE members will begin their 300-mile (483km) trek, travelling overland hauling sledges with supplies.
Before that, however, the 21-year-old from Saffron Walden in Essex, has to keep up a rigorous training regime, which involves weights, swimming and tyre-pulling on Dartmoor.
He also has the not-so-small matter of his third-year final exams looming on the horizon.
"I'm revising for finals and trying to keep up with all the training to build up my upper body strength," Henry told BBC News.
"It's very, very stressful and I'm having to do a lot of juggling, but I'm just about managing I think."
Robert Scott was born and educated in Plymouth and his home town has organised a series of events to commemorate the centenary of the Terra Nova Expedition, including an exhibition at the city museum, which includes Scott's sledge.
'Incredible journey'
"I was at the opening and it was very, very emotional - particularly seeing the sledge that Scott used," Henry said.
"I thought I knew quite a lot about Scott and his expedition, but I'm learning new things all the time and there's so much more to come, I'm sure."
On Friday Henry will attend a special rededication ceremony of the National Scott Memorial at Mount Wise in Plymouth, where the guest of honour will be the Princess Royal.
"I'm kind of nervous at the thought of meeting the Princess Royal, although I don't know if I'll get to talk to her - if I do, I'll try to be myself."
Before being selected for ISCE, the student had to endure a year-long assessment against 10 other candidates.
The assessment included assault courses and psychometric tests, Royal Navy officer training and a week in sub-zero conditions in Norway pulling a sledge for up to 15 miles (24km) a day.
The expedition will set off in November and for two months before he leaves, Henry has been told he will have to over-eat to fuel up his body for what lies ahead.
"It's such an amazing opportunity and the past year has been one incredible journey," he added.