Okehampton's Kerry Ingredients closes for Tenbury relocation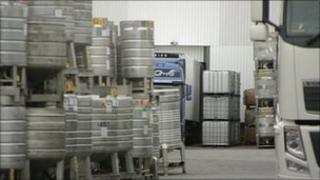 A food factory in Devon has closed with the loss of about 90 jobs, ahead of its relocation to Shropshire.
Kerry Ingredients in Okehampton closed at 14:00 GMT on Friday. The closure was announced in October.
The company said in June that the site was no longer viable and that it wanted to move production to Shropshire.
The firm said it "greatly regretted" the decision. About 12 staff will relocate to Tenbury with the company, it added.
Some of the workers will also make the move temporarily, for about six weeks, to help settle the production.
Kerry engineer Steve Hawker said: "I've been at this factory for 17 years now. I'll take whatever [job] is going. We've all got mouths to feed and mortgages to pay."
Kay Bickley, involved in Okehampton's Business Improvement District, said: "It's a sad day but Kerry's did give good notice so plenty of opportunity for people to get other employment or even relocate."
But she added that the job market was "hugely challenging".