Plymouth face knife attacker, Daniel Reader, is detained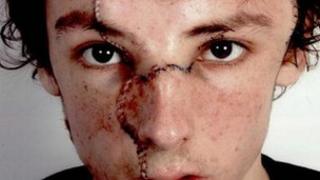 A teenager who attacked a friend with a knife leaving him with facial injuries requiring 100 stitches and staples has been detained for 16 years.
Daniel Reader, 18, of Newcastle Gardens, Whitleigh, used a carpet fitter's knife to attack Jack Berry's face and scalp in April 2011.
At Plymouth Crown Court Judge Francis Gilbert QC said they were some of the worst injuries he had seen.
A second man, Paul Courtney, 39, from Plymouth, was jailed for 12 years.
Reader and Courtney were convicted of conspiring to cause grievous bodily harm and Reader was also found guilty of wounding Mr Berry with intent to cause him GBH and possessing a knife.
'Like brothers'
Judge Gilbert said: "This was one of the worst, if not the worst, cases of the use of a knife to cause serious injury I have ever had to deal with."
He added that it was a premeditated attack intended to mutilate Mr Berry whose family had taken in Reader, then aged 17, and who had been loved and treated by them like a family member.
The judge told Reader: "At the time Jack Berry was a close friend. You were like brothers."
He said he considered Reader to be a "dangerous offender" after he showed an "extreme level of violence" to his closest friend.
Courtney took part in the conspiracy and was said to have told Reader to "do him".
Astra Widdicombe, 22, from Kitley Way, Plymouth, was jailed for a year for perverting the course of justice after she tried to dispose of the knife.
Prosecutor Nick Lewin told the court: "This was a particularly vicious attack on a young man. It was a deliberate attempt to blind him."
Mr Lewin said it was a "punishment attack" because of some missing money.
He said the victim was lured to Courtney's home, but Mr Berry fled through an upstairs window.
He was chased into a corner where he was then attacked, he added.
Mr Lewin said the wounds were "horrendous" and had left Mr Berry with "lifelong scars".
In a victim impact statement Mr Berry said he rarely leaves his family home and constantly looks over his shoulder.
During the trial he told the jury: "He was like a brother to me. At the time I wouldn't call him anything less than my brother.
"He sent us Christmas cards and wrote a birthday card to my mum, writing 'with love'."
After the trial, Det Con, Kevan Lawson said: "This could have been a murder inquiry.
"These are the worst facial injuries inflicted by one person on another that I have seen."