Plympton fatal car crash biker 'may have hit pedestrian'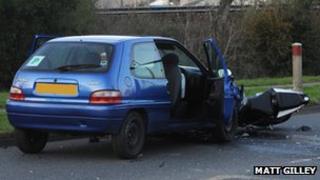 A motorcyclist who died in an crash in Plymouth may have hit a pedestrian before colliding with a car, Devon and Cornwall Police have said.
The 28-year-old local man died from his injuries after the crash on Glen Road in the Plympton area of Plymouth just before 18:00 BST on Monday.
A police spokesperson said a 71-year-old woman was taken to Derriford Hospital with head and rib injuries.
Anyone who witnessed the incident has been asked to contact police.
The pedestrian's condition has not been revealed, but police said her injuries were not thought to be life threatening. The car's passengers were shocked, but unhurt.