Plymouth University to cut up to 100 jobs in three years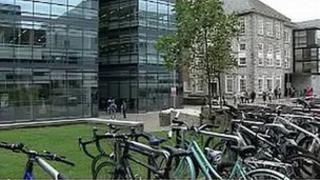 Plymouth University has revealed plans to cut up to 100 jobs over the next three years.
The university, which employs about 3,000 staff, plans to cut its £200m annual budget by about 2% each year.
It said it expected to make "100 compulsory redundancies at the most" and hoped voluntary and early retirement schemes would help.
The university blamed government funding reforms but the Unison union said it was disappointed by the move.
A university spokeswoman said no more than 40 compulsory job losses were expected in 2012 but said there would be a review of academic and research posts as well as support services over the three years.
Historically, university funding has come mostly from the government but increases in student tuition fees, which come into place in September, will now be used.
'Pressure and stress'
Vice-chancellor professor Wendy Purcell said: "Plymouth University is stronger now than ever in our history and with the support of our people we will emerge from this stronger still.
"By taking a longer-term view, we are approaching the changes as an opportunity to sustain the university's world-leading reputation."
A Unison spokesperson said: "Universities are being forced to compete with less and less funding which means reduced services or staff, and often both, resulting in greater pressure and stress for those left in post to carry out the work.
"We acknowledge that times are tough all around but we are disappointed that the university feels it has to take measures which will result in job losses.
"We will do our utmost to ensure that any losses are mitigated and those left behind are not left with unrealistic expectations to undertake excess work putting themselves at risk."
The proposals have been ratified by the university's independent board of governors and a formal consultation period has begun.