Motorcycle Action Group bids to cut Plymouth biker deaths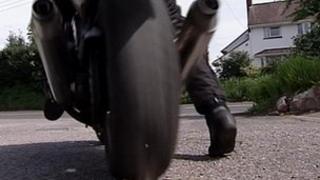 Eight motorcyclists have been killed on Plymouth's roads in the past eight months.
The Motorcycle Action Group (MAG) wants to set up a safety forum in the Devon city to reduce the number of fatalities.
The group claims Plymouth is the third most dangerous city in England, but Devon and Cornwall Police said bikers could do more to protect themselves.
Plymouth City Council said it was working to reduce casualties.
It said it was one of the first councils to allow bikers to use the city's bus lanes and it had "Think Bike, Think Biker" on messaging signs on main roads.
Any suggestion it was "not interested" in making roads safer was not true, the council said.
"We are disappointed by MAG continuing to imply we are an obstacle to the safety of bikers as nothing could be further from the truth," a statement said.
The council said it declined an invitation to meet the group because the recent fatalities were the subject of ongoing police investigations.
MAG said figures supplied by police forces in 2010 showed Plymouth was the third highest for death or serious injuries.
But PC Ian Tanner from Devon and Cornwall Police said, despite the deaths, Plymouth was not a dangerous place.
"We've had some fatalities, which is tragic, but they are all explainable and they've all got a cause, but Plymouth as a whole isn't a dangerous place if you look at all the biking statistics," he said.
The officer said that, from recent accidents, it was clear some motorcyclists could have done more to make themselves safe and, in some instances, drinking and driving was involved.
Pete Bourner, from Plymouth MAG, said multi-agency meetings could help reduce casualties.
"What we're after specifically... is to have regular meetings with police, fire service and other agencies, where we can all sit down and work out how to prevent these casualties," he said.
"We're not looking to blame any other road users - it's just to get the casualty numbers down because Plymouth is just far too high."
PC Tanner said no-one was avoiding the MAG's request to meet, but arranging a suitable date had been difficult.