Joss Stone murder plot accused moved to mental health unit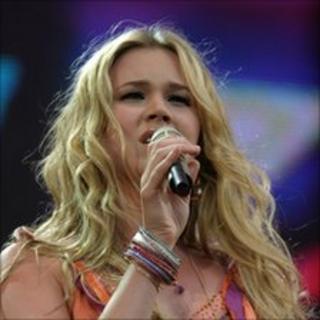 A man accused of plotting to rob and kill singer Joss Stone at her Devon home has been moved to a mental health unit, Exeter Crown Court has heard.
Junior Bradshaw, 31, from Manchester, is charged with conspiracy to murder, conspiracy to commit grievous bodily harm and conspiracy to commit robbery.
The results of psychiatric tests to determine his fitness to stand trial will not be known until June.
Kevin Liverpool, 34, also from Manchester, denies the same charges.
Mr Bradshaw, who did not attend the hearing and has yet to enter a plea, was moved to a mental health facility in Manchester in March.
At a previous hearing, the court in Exeter was told he had schizophrenia.
The men are accused of targeting the 25-year-old millionaire soul singer between January and June last year at her home near Ashill in Devon.
Mr Liverpool was further remanded in custody by Judge Graham Cottle, who extended custody time limits until the trial, which is due to start in August.