Dartmouth lay-offs warning over rent rises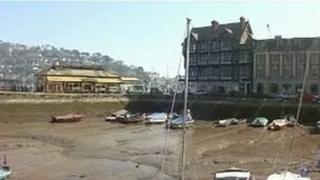 Shop staff in Dartmouth may face being laid off after retailers were issued with large rent rises.
One shopkeeper faces a rent rise from £12,000 a year to £27,000 a year over the next two years.
The shops are owned by charity the Dartmouth Trust, which says it has a duty to charge "market rates".
It supports local organisations known as the Dartmouth United Charities, the town council and local churches.
Steve Fairclough, who runs a gift shop on Dartmouth Quay, said: "If anyone had £15,000 taken off their salary they would have a difficulty.
"I can't get a different shop. I have to try and make this £15,000 up by trying to make that shop perform better.
"The first casualties will obviously be staff. I am old enough to look after myself, but whether my staff are able to if they are made redundant, is another question."
Local churches received just over £70,000 last year from the trust.
The Right Reverend Will Hazlewood, Priest-in-Charge for Dartmouth and Dittisham, said: "We certainly don't want to see pain and hardship.
"And it is not in the trust's interest to have empty shops lying around.
"Independent traders are a vital part of the fabric of Dartmouth and my hope is that some middle ground can be found so rent increases are handled as sensitively as possible."
He said the trust was not attempting to "fill its own pockets".
"All the money it raises goes to charity and all those charities are centred in Dartmouth," he said.
Dartmouth Trust said in a statement that it had a legal obligation to charge market rates for renting out its properties.