Budget cuts hit Shoalstone outdoor swimming pool season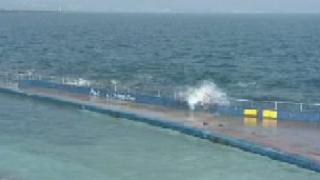 An outdoor swimming pool in Devon is to only open for six weeks this year due to council budget cuts.
The pool at Shoalstone, near Brixham, would normally open for four months over the summer.
Torbay Council said budget cuts meant it could only guarantee to open the pool for six weeks during peak season.
Brixham Town Council is to ask residents if they would be willing to pay £7 more on their council tax to secure the pool's long-term future.
The area was built on the site of a natural rock pool that people have used for bathing since the late 19th Century.
Torbay Council runs the pool and maintenance work is carried out by volunteers from the Friends of Shoalstone Pool group.