Beaver rescued from Roborough farmer's slurry pit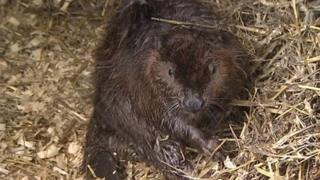 A beaver has been rescued from a slurry pit at a farm in Devon.
It was found at Roborough, near Plymouth, and has been taken to Dartmoor Zoo where staff are attempting to clean the creature.
"He's about the size of a medium dog and he has been growling at us," George Hyde from the zoo told BBC News.
The RSPCA is trying to find out where it has come from. It is possible it could be one of three beavers that escaped from a farm in Lifton in 2008.
Only two of the escaped beavers were re-captured.
'Nasty things'
Mr Hyde, operations manager for the zoo, said it has not yet been possible to get too close to examine the beaver, although it appears to be uninjured.
"He's a feisty little thing. He's also got a fairly substantial set of teeth he could do some damage with, so he's contained in a large RSPCA kennel box at the moment.
"It's important to get him cleaned because he's covered in poo from the slurry pit and with natural grooming he could be ingesting any number of nasty things."
Mr Hyde said if the RSPCA could not trace the beaver's owners, the charity would help the zoo find a suitable place to rehome it.
"Until then, I'm confident in the experience and ability of the staff here to look after the beaver," he said.
Beavers were hunted to extinction in England and Wales during the 12th Century and disappeared from the rest of the UK 400 years later.
'Giant guinea pig'
They were hunted for their fur and throat glands, which were believed to have medicinal properties.
A male and female beaver brought to Escot Park at Ottery St Mary from Germany as part of a wildlife conservation scheme produced a litter of two kits in 2007.
In another wildlife experiment, two beavers were brought to a secret location near Okehampton, to see if they could improve water quality and reduce flood risks by clearing scrub and trees and improving watercourses.
RSPCA inspector Sarah Morris said it was the first time in her 12-year career she had been asked to rescue a beaver.
When she received the call for help from the farmer, she said she thought he was joking and the animal was a giant guinea pig.
The beaver, which had been under a tractor, ran off and ended up in the farm slurry pit.
Because nothing is known about the beaver's history and the risk of slurry bacteria, it is being kept in quarantine to protect the zoo's other animals.