Storm damages and destroys Seaton beach huts in Devon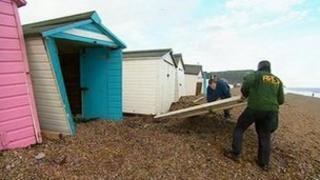 An overnight storm has damaged about 60 beach huts in a town in east Devon.
About 20 of the huts on West Walk in Seaton - many of which are privately owned - were completely destroyed, East Devon District Council said.
Conditions on Wednesday night included high seas and strong winds of up to force 6 (30 mph), the Met Office said.
The council said that it had contacted all of the hut owners who were affected. There are about 90 huts in the area.