West Exe Technology College's Steve Maddern suspended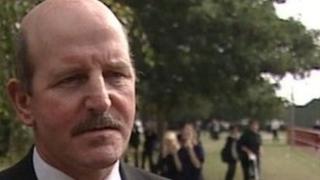 A Devon head teacher who was involved in a row over his salary has been suspended.
Education authority Devon County Council said the suspension by West Exe Technology College governors of Steve Maddern was a "neutral act".
Governors put the college's application for academy status on hold in March after it emerged that Mr Maddern's salary was £152,211.
No-one at the school has been available for comment.
At the time Mr Maddern's salary was revealed, Exeter's Labour MP Ben Bradshaw called it "way out of kilter" and the authority sent auditors into the school.
Governors also asked the authority to carry out a review of senior staff salaries.
Following the announcement of the suspension, Mr Bradshaw said on his Twitter account that the "focus must be supporting staff and students as exam time approaches".