Anniversary of Exeter WWII blitz marked by minute's silence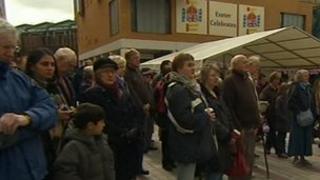 A minute's silence has been held in Exeter to commemorate the 70th anniversary of the blitz.
During the first two years of World War II the Devon city suffered 18 raids by the German Luftwaffe.
But the bombing raid on 4 May 1942 killed 156 civilians and injured 563. Exeter Cathedral was one of many historic buildings damaged.
A special service was held at Princesshay shopping centre.
The bombs destroyed 1,500 homes and nearly 3,000 were seriously damaged.
'Utterly dazed faces'
Yvonne Ware-Owen, who was 14 when the city was bombed, said with no air raid shelter nearby, she and her family sheltered under a dining table.
On her way to school the following morning, she told BBC News she remembers seeing a "stream of people with utterly dazed faces" walking out of the city.
"They had to get out - presumably their houses had gone," she said.
Mrs Ware-Owen, who now lives at Haytor on Dartmoor, said another vivid memory was the "absolutely horrible" smell of burning.
"I remember hearing that Hitler said 'Exeter is a jewel and I have destroyed it'... he did his best, but he didn't make it," she added.
The start and end of the minute's silence was marked by the sound of a WWII air-raid siren.