Plymouth police to check on anti-social drinkers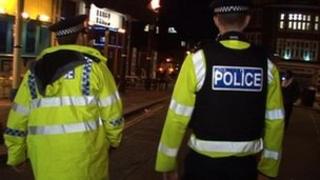 Drinkers arrested for anti-social behaviour will get the chance to avoid prosecution by staying sober for a month.
A pilot project starting in Plymouth on Tuesday means offenders who have been cautioned will have to take breath tests at Charles Cross police station.
Hull, St Helens, Cardiff and Westminster will run similar pilots.
It is part of a Home Office alcohol strategy to crack down on binge drinking.
'Cost-effective'
It says that in England and Wales almost 1m violent crimes and 1.2m hospital admissions involved alcohol in 2010/11, leaving taxpayers with a bill of about £21bn.
The Cardiff project is still being evaluated and the pilot is not under way yet.
Announcing the pilot, Home Secretary Theresa May said: "We all know there is a significant minority in this country who drink dangerously and who cause disproportionate harm.
"Drunken brawls and disorder have made many town centres no-go areas for law-abiding citizens."
But Exeter Labour MP Ben Bradshaw said: "I don't think it will work. I don't think there's any evidence that it will tackle this kind of binge drinking and anti-social behaviour that people are worried about."
Totnes Conservative MP Dr Sarah Wollaston said: "I think it's a really interesting strategy and it's going to make a real difference."
Det Ch Insp Jim Cowell of Devon & Cornwall Police said: "It's a very cost-effective, simple option that we can consider using in the right circumstances.
"And it has really positive benefits in not criminalising people who have made an error of judgement due to the effect of alcohol and relieves the burden on the criminal justice system."
Drinkers who do not attend the sobriety tests or fail them will risk being charged with the original offence.