Pupils abuse hundreds of teachers in Devon schools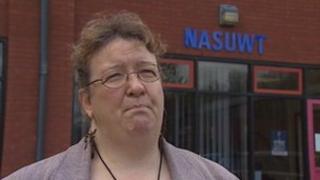 More than 300 teachers in Devon were abused by pupils in 2011, a Freedom of Information request has revealed.
Although none of the injuries were serious, some of the 301 teachers needed time off work to recover.
Fiona Westwood, of union the NASUWT, said she thought more were verbally or physically abused than figures implied.
Devon County Council said it worked to minimise incidents. Torbay Council said many injuries were accidental. Plymouth City Council is yet to respond.
'Slapping, kicking and spitting'
Ms Westwood said more teachers could have been abused because what constituted an incident was highly subjective.
She said: "Any type of verbal abuse is totally unacceptable. It disrupts learning, it means teachers can't do their job and it means people are getting damaged and distressed.
"We fairly routinely have cases involving punching, slapping, kicking, spitting and also some cases of weapons being used, such as knives.
"Thankfully hospital incidents are on the low side."
Peter Maunder, Torbay Council's head of school leadership, said: "In some cases children can try and run out of a school, and for their own safety have to be restrained and adults are hurt incidentally.
"Sometimes it's not exactly the picture of a child launching an assault at an adult.
"We collect the statistics so each incident can be investigated and to find the most appropriate support."
A spokesman from Devon County Council said: "Threats by pupils to staff, whether verbal or physical, are completely unacceptable and we work with schools to minimise such incidents.
"Where they do occur, we support schools in taking appropriate action."
The figures have come from Devon County Council, Plymouth City Council and Torbay Council.