Exeter World War II plaque for victims in Higher Cemetery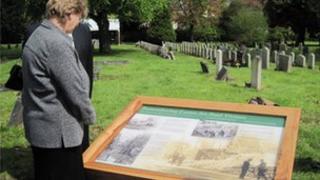 A plaque in memory of nearly 300 people who died in bombing raids during World War II has been unveiled in Exeter.
Many of their relatives attended the ceremony at the Devon city's Higher Cemetery.
During the war, 282 people died in raids on the city. A mass funeral for many of the victims was held 70 years ago at the cemetery.
A minute's silence was held in Exeter to commemorate the 70th anniversary of the blitz on Saturday.
During the first two years of World War II the city suffered 18 raids by the German Luftwaffe.