Parracombe Primary School to be rebuilt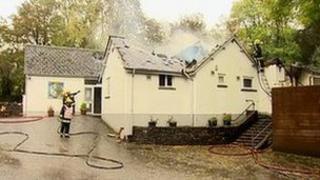 A north Devon school badly damaged by a fire is to be rebuilt.
About 30 firefighters tackled the blaze at Parracombe Primary School near Lynton in September 2011. Three-quarters of the school, which has about 25 pupils, was damaged.
Devon County Council confirmed it had approved the rebuilding work.
The Conservative-led authority's leader, John Hart, said the council was opposed to closing schools unless it was on educational grounds.
Staff had described the incident - which damaged a classroom, staff room and kitchen area - as "heartbreaking".
Tory county councillor Andrea Davis said she was "delighted" that the future of the "extremely important" school had been secured.
"The rebuilding of the school is important if the village is to remain a sustainable community," she said.
"Without this school, it is inevitable it will lose its families."