Ten Tors: Girls rescued from Dartmoor bog want to compete again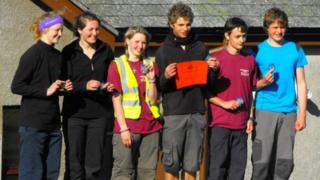 Four girls who had mild hypothermia after getting stuck in a Dartmoor bog during the Ten Tors Challenge say they want to compete in the event again.
The girls, from the Mid Devon Plodders team, were rescued by helicopter after ending up waist deep in the bog at Raybarrow Pool, in north-west Dartmoor.
A team from Kingsbridge College helped to raise the alarm and stayed with the girls until the helicopter arrived.
More than 2,400 teenagers took part in the annual trek across the moor.
The Plodders, who come from a number of local schools, used a GPS tracker, mobile phones and whistles to raise the alarm after they got stuck in one of Dartmoor's many bogs on Sunday.
The Kingsbridge College 55 Mile team heard their whistles and found the girls in the bog.
Roger Harris, from the Kingsbridge team, said: "The girls were tired and freezing cold, but we tried to keep them calm and told them help was on the way."
Six members of the Plodders, aged between 14 and 15, were airlifted to Okehampton.
The rules state that all teams must complete the challenge before 17:00 BST or they will be disqualified.
The Kingsbridge team arrived about 17:25 BST, but still received their medals for completing the challenge.
Tony Wasley, team manager of the Plodders, said: "We are very thankful... in essence they could have forfeited their award.
"They are brave youngsters.
"The Plodders returned to school on Monday and all six members want to compete again, and complete the challenge."
Neil Cameron, head of outdoor education at Kingsbridge College, said: "I'm absolutely overcome with admiration for the team.
"It proves that the Ten Tors challenge is about so much more than just crossing the finish line."
The event involves people aged between 14 and 19, in teams of six, trekking either 35, 45 or 55 miles (56, 72 or 88km).
Organisers said 251 of those who started the challenge had to drop out because of sprains and strains.