Zara and Bershka close at Drake Circus with 36 job losses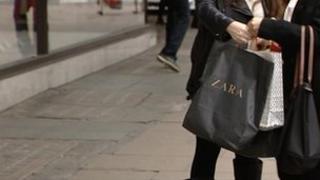 Thirty six jobs are to go with the closure of fashion stores Zara and Bershka in Plymouth.
Both stores are to close on 1 June, Drake Circus shopping centre confirmed. The lease on Zara has been for sale since 2009.
Staff at Zara have been told that an Apple store will take its place and the lease of Bershka is being taken over by another big name brand.
Apple would only say: "We haven't announced a store at that location."
'Exciting retailers'
Greg Lumley of Drake Circus said two new retailers to Plymouth had been lined up to take over the Zara and Bershka units, but declined to name them.
He said: "They will be exciting retailers for Plymouth.
"When you see the announcement you will see that we are doing very well and there is a strong demand for Drake Circus."
Clint Jones from the City Centre Management Company said he felt sorry for the workers.
"It's a shame when any store closes," he said.
"The retail offer in Plymouth is still strong so I am sure there will still be opportunities for those workers."
One member of staff at Zara, who did not want to be named, said the announcement of the closure had not been expected.
Many workers had been at the store since it opened six years ago.
She said: "We were told that the lease for sale was for rent negotiation, but they just pulled the wool over our eyes.
"The company has been doing really well, so it's been a huge shock for everyone, especially because there aren't that many jobs in Plymouth."
No-one was available for comment at Inditex which owns Zara and Berskha.