The changing picture of a Jubilee: 1977 v 2012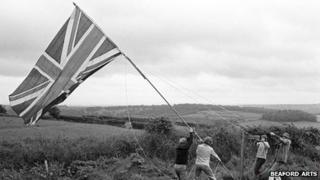 We all take pictures of events and the Diamond Jubilee will be no exception.
Families and friends will take pictures of themselves on cameras, phones and tablet computers erasing pictures as they go until everyone is happy with the final image.
But is all this photography devaluing itself?
In 1977 James Ravilious was the photographer in residence at Beaford Arts Centre taking select black and white photos of the silver jubilee celebrations in Devon for an archive.
There was no delete button back then.
Thirty-five years later and professional photographer Andrew Barrett will be capturing the celebrations of his Devon village, Ashreigney, as it celebrates the Diamond Jubilee.
He said: "James captured the moment very well, they're very natural and not staged.
"A lot of James' photos have a lot of characters in them. They convey what life was like back then in rural Devon."
Mr Barrett's aim is to secure an accurate snapshot of how Ashreigney celebrates 60 years of Queen Elizabeth's reign.
But the equipment Mr Barrett will use has changed a lot from Mr Ravilious' time.
He said: "I use a digital camera and you can see what you've got straight away, but before it was a bit of a mystery.
"I'll take them in colour but convert them into black and white because I think it's timeless. Colour photos can date really quickly.
"Digital is better generally because the moments are captured whereas in the past so much has happened and there's no record but in some ways there are too many pictures."
Beaford Arts has digitised 1,700 of Mr Ravilious' "best" pictures, selected by the man himself, even though he died in 1999, with some helping to create the James Ravilious: The Queen's Silver Jubilee online gallery.
Liz Nicol, a trustee of the centre and associate professor of photography at the University of Plymouth said: "James was commissioned to take photos with the idea that he was capturing something for the future.
"What we have with the digital aspect is that many images will be taken but people won't know where they should go.
"They're kept on computers which will become defunct or they won't be able to access them in five years time."
Another advance in technology is social media, with people instantly posting good images of themselves online for the world to see.
"If you take a picture on your camera you can send it to someone immediately but after that there's less of a physical object or an album so when in the future we look back on images of this jubilee maybe they won't feature in any archive."
And Ms Nicol adds, the beloved delete button could be more of a hindrance than a blessing.
"The biggest problem with the delete button is that you're not sure what you're interested in at the time and it's years later you find something you like.
"The first images might lead you somewhere and the last images might be the start of something new and if you delete them you wont see them."