Thurlestone phone box to become party venue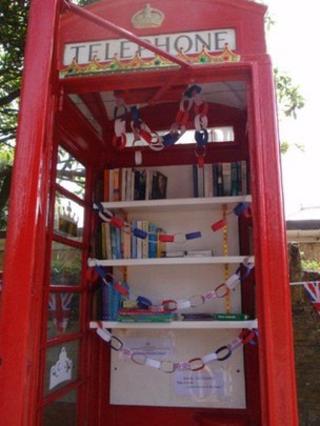 They have been turned into art galleries and libraries - now a Devon village is turning its former phone box into a party venue.
Thurlestone is holding an opening party for the Queen's Diamond Jubilee, with the phone box decorated in bunting.
After that the phone box, which the parish council bought for £1, will be open for anyone to hire.
A small garden has been planted outside and there are plans for Olympics-inspired events with it.
Villager Kit Marshall, who came up with the idea, said: "I was inspired by my daughter who has done a similar thing with a phone box in her village in Wiltshire.
"We are just going to do fun things with it. Hiring it for parties is a way of getting people to smile a bit."
The inauguration party is being held later, with parish council chairman Jack Rhymes cutting a ribbon.
'Raise money'
"We have told everyone to bring a crown, a drink and have a bit of a jolly," said Mr Marshall.
"We also want to dress it for the Olympics.
"We hope it will go on to host lots of little events to raise money for the village."
The K6 phone box, as it is called, was known as the Jubilee Kiosk because it celebrated the Silver Jubilee of King George V.
It was designed by Sir Giles Scott who also designed Battersea Power station.
According to BT, there are still 11,000 red phone boxes in use and 1,800 have been "adopted" by their local community.