London 2012: Pupils learn 'we'll kill you' song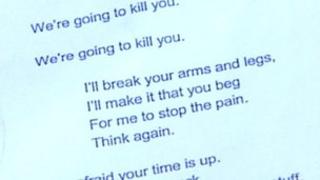 Pupils at a Devon primary school have been told to memorise a song talking about killing other people as part of a project marking the Olympic Games.
A song sheet distributed by Abbotskerswell Primary School included the lyrics: "We're going to kill you" and "I'll break your arms and legs."
Parents complained to the school about the "thuggish lyrics".
Head teacher Viv Clare said the song was about the Ancient Olympics, but that it had now been withdrawn.
Parent Dave O'Neill said he did not believe that any teacher could justify such lyrics being handed out to "young and impressionable children".
He said: "I'm furious that anyone would allow children to recite, rehearse and sing this song.
"It's supposed to support the Olympics, and this certainly isn't in the Olympic spirit.
"Children need a good education at an early age, not learning thuggish lyrics in school."
Ms Clare said the lyrics were contained in a published educational musical about the Ancient Olympics that the school was planning to produce to tie in with the Games.
She added: "As soon as their unsuitability was brought to my attention, I told staff they must be withdrawn and re-written.
"I can only apologise to anyone who has been offended by these lyrics, and trust they have been reassured by our swift action to redress the mistake."