Jubilee pageant role for Devon naval college and boat designer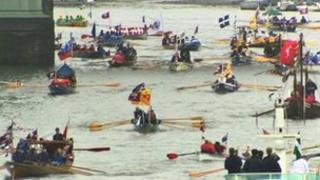 Selected staff from the Britannia Royal Naval College at Dartmouth have provided the Queen's Honour Guard during the Jubilee Pageant.
The flotilla involved 1,000 vessels which sailed down the River Thames to mark the Queen's 60-year reign.
Lt Cdr Steven Walton said: "There is a minor aspect of security, but the majority of our work is ceremonial."
Also involved in the pageant was Ed Burnett who designed the royal barge the Gloriana and helped to row it.
Those selected from Dartmouth's Naval College had rehearsed on the River Dart which is said to have similar tidal strength and movement to the Thames.
Lt Cdr Walton said: "The Royal Navy is there to provide a sovereign's guard in the same way that the Household Cavalry do for events like the state opening of the Houses of Parliament.
"We're going to try and do that on the water around the royal barge itself but the majority of the security role is taken by police."
Sub Lieutenant Alexander Whale, one of two females to be involved in the Queen's Guard from the College, said she was "extremely proud and excited".
Elsewhere in Devon street parties have been held.
In Plymouth, Olympian Heather Fell went to the Big Lunch at the Piazza.
She said: "There were hundreds of people there, union jacks were everywhere and even a dog was dressed up. It was really good."
At Dartmoor's Miniature Pony Centre the first miniature donkey foal of the season was born on 1 June.
Measuring 19ins (48cm) tall and weighing 7kg, she has been named Elizabeth.
See all the latest Diamond Jubilee news and features at bbc.co.uk/diamondjubilee