Clear-up starts at Dartmoor rave site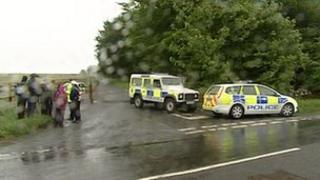 A suspected rave on Dartmoor involving about 1,200 people has been halted, police have said.
Officers said the gathering - which included about 500 cars - was dispersing peacefully from Bellever Forest, near Postbridge.
The event, thought to have been organised on a social networking website, began on Sunday.
Four people were arrested for drugs offences.
Devon and Cornwall Police were called to the site, owned by the Forestry Commission, at about 00:30 BST on Sunday.
Gates damaged
The gathering had been advertised as due to last for four days.
One organiser, who was just identified as Rich, said he and his colleagues just wanted to host a party somewhere quiet.
He said: "It's out of the way, it's nice, it's in the countryside.
"Clubs are too expensive, and it's good to get away."
The site had been secured by locked gates, but they were found to have been forced open.
Drugs were seized by police, but officers held back from confiscating sound equipment, instead shutting down "three significant sound systems and stages".
Road bocks were also set up to prevent more people from attending.
Officers said they turned away "several hundred more people", and breathalysed those leaving the site, stopping anyone over the drink-drive limit from driving.
Between 600 and 700 people were still on the site on Monday morning. It was expected to be cleared by Monday evening, police said.
Writing on Twitter, the force said: "Pleased to say there were no complaints from the local community.
"We'll be sticking around to reassure local residents today. Public safety is of paramount importance."
Wildlife concerns
Supt Glen Mayhew, of Devon and Cornwall Police, said the event caused "considerable concern and nuisance to our communities".
He said: "As well as the impact on local residents and damage to environment, they pose a risk to those attending due to the environment.
"People are vulnerable as they are not equipped for the weather and conditions on Dartmoor."
Dartmoor National Park's Head Ranger Robert Steemson said the gathering had raised several other concerns.
He said: "There's obviously the noise, but it's also the other damage - the potential of litter and human waste, and the damage to trees and wildlife."
He said the park authority would be getting together with the Forestry Commission to assess the damage and begin clearing up.
"Hopefully we'll then repair the damage and the gates," he added.