Waste and rubble found at Dartmoor rave site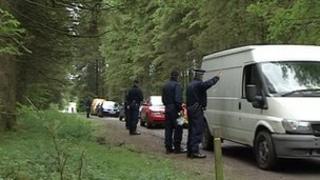 Human waste, bags of rubble, remains of fires and a sofa have been found at the site of an illegal rave on Dartmoor, the national park authority says.
The gathering of up to 1,500 people at Bellever Forest, near Postbridge, was halted by police on Sunday.
Some of the last revellers to leave began clearing rubbish, the park's head ranger said.
The authority added that Bronze Age structures in the area did not appear to have been damaged.
'Worrying' bottles
The event, held on land owned by the Forestry Commission without its permission, is thought to have been organised on a social networking website.
It began on Saturday and was advertised to last four days.
Police intervened after being alerted to the gathering at about 00:30 BST on Sunday.
Four people were arrested for drugs offences.
Organisers had left signs at the site, saying revellers should take rubbish away with them.
As well as the waste, other items left behind included sofas.
Head Ranger Robert Steemson said some of the revellers had helped with the start of the clear-up.
He said: "The last 50 to 100 people who were leaving actually did have a tidy, so a little of the litter and the bottles and cans have been removed."