Plymouth emergency leaflets 'scare' residents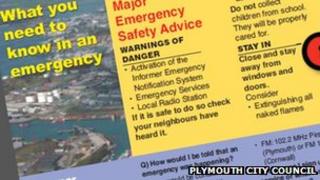 A major emergency safety procedures leaflet distributed in parts of Plymouth has left some people scared and confused, residents have said.
The leaflet, by the Cattedown Emergency Planning Forum, includes instructions about how to receive warnings and measures to evacuate people from homes.
Residents said the leaflet did not clarify what sort of emergencies were possible, or why they could be moved.
Plymouth City Council said it was happy to talk to residents about concerns.
'No proper procedures'
The leaflet said it was helping people prepare for emergencies in the Cattedown, Coxside, Prince Rock, Oreston, Hooe Lake, and Turnchapel areas of the city.
It described how warnings of danger would be broadcast, how to join an emergency information service, an evacuation check list; and contact details for utilities companies and businesses which stored petrol, gas and fertiliser in the area.
One shop owner, who did not want to be identified, said: "It certainly scared me.
"They haven't sent a council representative round to make sure people know what to do.
"It makes it seem that there are no proper safety procedures in place, or followed up."
Residents in some of the listed areas also complained that not all households received the leaflet.
The leaflet also lists a medium wave frequency for BBC Radio Devon in Plymouth to receive for emergency information. It is no longer used for transmissions.
Plymouth City Council said the leaflet was designed to raise awareness of people living near depots with potentially dangerous substances.
"The emergency planning team are also happy to visit residents to discuss any concerns if they contact the council," a spokesman said.