Flu jabs to cut Plymouth council sickness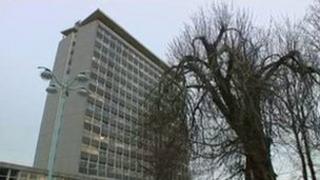 Staff at Plymouth City Council are to be offered flu jabs to try to bring down the authority's £6m sick leave bill.
On average staff took nine days off last year, twice as much as the average British worker.
The council said in a report to a scrutiny panel that it wants to cut its illness rate to six days a year.
It said it had invested £200,000, about £22 per employee, into occupational health including flu jabs.
'Not good enough'
The report, to the Support Services Overview & Scrutiny Panel, said levels of absence had dropped from 12.8 days in November 2010 to nine days in February 2012.
But it added it still remained above the local authority average of 8.5 days and the council's target of six.
Mark Grimley, from PCC, said: "Going down to nine days from 13 days two years ago is really good progress but we know it's not good enough.
"We do have an issue with long-term sick leave and there's a number of conditions that we're seeing particularly around stress but also around having an older work force."
Mr Grimley said the £200,000 was an "investment to prevent people from going off from work and to get them back quicker" and included the offer of flu jabs for about 10% of employees this autumn who worked on the frontline or in the community.
He added: "I think preventing people from going off work, getting those numbers down and actually delivering those services that we're here to do is a good investment of our time and money."
Tim Jones, from Devon and Cornwall Business Council, said: "This is a question about man-management and finding that magic ingredient that makes people want to work. If that means a tedious job has got to be better paid let's address that issue.
"Every day that's lost has a knock-on effect on creating jobs and wealth and anything that disrupts that is holding back the regeneration which is vital."